We Create Fragrances
Our Customers Smile
Our Passion For What We Do Shows In Our Service

We Love Fragrance. Truly. We combine that love of craft with a passion for serving our clients. Everything we do, we do with a servant's heart. You're why we are here doing what we love.
Courteous
How refreshing is it to work with nice? Very! Try us.
Creative
Certainly, and not just in our perfumery. In everything we do.

Clearly Intelligent
Of course. We combine years of industry experience along with a healthy dose of common sense.

Charismatic
A passionate, energetic group of people working for you? Check.
Collaborative
We keep you engaged in the creative process. It's important!
Cool
You bet. Cool as a cucumber. Our customers think so!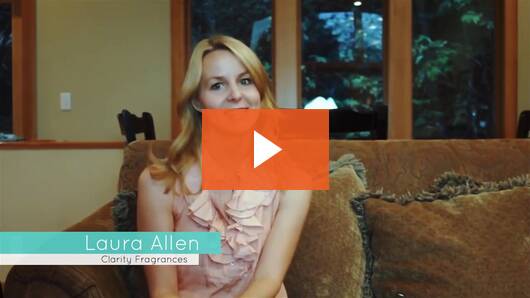 We Love Fragrance and the Search for Clarity
We love fragrance and the search for Clarity.  Clarity is not just our job.  It is our life story.
Find Clarity
Creative Intelligence
Creativity is a process activated through intention and attention…to create something productive, something useful. Intelligence is the ability to understand and adapt to your needs. Creative intelligence is what drives our fragrances, our people, and our success. It is our desire to understand and adapt to your needs. Creative intelligence is included in every aspect of our company – from fragrance design to technical solutions. We pay attention to your needs with the intention of exceeding your expectations…whatever your goal may be.
Get Clarity Now
1
Minutes till We Miss You
10
Seconds to Answer Phone
"The best team we have ever worked with. They have helped in so many ways above and beyond the call of duty compared to anyone else we have ever worked with."

− Jonathan, Candle Manufacturer
"It was really fun getting to know the team during the project. They were all helpful in answering my questions and made me feel at ease. The fragrance ended up being twice as good as I could've envisioned!"

− Melissa, Pet Care Company
"I'm wondering why I never contacted these guys sooner! Seriously, they all have commendable talent in their respective fields and knocked my concept out of the ballpark. Thanks for an amazing experience!"

− Jacob, Home Fragrance Company
Our Expertise
Perfuming

99%

On Time Delivery

97%

Customer Smiles

99%

Funny Jokes

85%

Trivia Knowledge*

78%
*We believe there is always room for improvement
We Are Perfumers. We Are Partners. We are Clarity Fragrances.

The experience and strength of our partnership makes it easier for us to partner with you. As a group, we are focused on a common goal, pleasing you, and it shows.
Rachael Tolliver – Founder
The President. From concept to customer, she's the glue that binds us.
John Mego – Founder
The Sales Guy.  At your service.  Give him a call!
Joel Wilson – Founder
The nose. He translates your ideas and words into fragrances.
Anthony George – Founder
The operations guy.  He does it all and writes poetry too!